What is Synthetic Oil?

Inside your vehicle's engine exists a complex system of moving metal parts. Motor oil is used to lubricate these parts, keeping them moving freely, greatly decreasing the chance of overheating caused by friction. Synthetic is a special type of motor oil goes through a process where its chemical compound has been altered to enhance vehicle performance or mileage.
At Bohn Toyota, our team of factory-trained technicians are committed to educating drivers throughout Harvey, New Orleans, and Metairie on the best ways to maintain their vehicle's performance. To learn more about the benefits of using synthetic oil continue reading our helpful guide below and contact us with any questions!
Types of Motor Oil
Motor oil is generally classified into four categories: conventional, full synthetic, synthetic blend, and high mileage. Conventional is the most typical form and is derived directly from crude oil. Synthetic and all its different variations also start as crude oil but then go through an extra distillation process to remove impurities.
During this process, artificial additives are added while its chemical makeup is reworked to increase its viscosity index.
Synthetic motor oil is most often used in older vehicles with high mileage or in performance-style vehicles that tend to put greater demands on their engine system.
Five Benefits of Using Synthetic Oil
While conventional oil provides a number of cost-saving benefits and tends to work well on most vehicles, the vast majority of technicians agree that synthetic oil does a superior job in a number of ways including: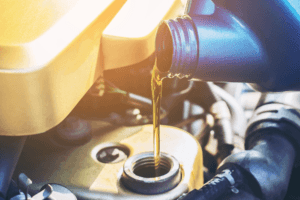 Resistant to Viscosity Breakdown. Cold or heat tends to slow or breakdown conventional oil making it less effective. Synthetic oil is engineered to better withstand extreme temperature changes.
Decreases Engine Sludge. Since synthetic oil goes through an extra distillation process it means fewer particles end up inside your engine, keeping it running at peak performance.
Greater Engine Protection. Synthetic oil breaks down slower than conventional oil meaning your engine's components run a far lower risk of prematurely wearing down.
Improved Fuel Economy. Not only can you potentially save at the pump, depending on your vehicle, it might also mean less frequent oil changes.
Reduced Engine Drag. If reaching the highest horsepower is important to you, synthetic motor oil helps ensures your engine stays cool and clean, so it can perform at its best level.
While synthetic provides a number of great benefits, it's not recommended for use on high mileage engines or in new engines during the 10,000-mile break-in period. Because it's so slippery, it can affect the proper mating of parts within the engine causing long-term problems down the line.
Schedule Your Next Oil Change at Bohn Toyota Today!!
Now that you understand some of the key benefits to using synthetic motor oil as opposed to conventional, make sure to ask your technician about it the next time you're in for service.
If you're a driver living near Harvey, New Orleans, and Metairie and in need of a routine oil change, simply stop in during service hours or go online to schedule an appointment today!