We Buy Used Cars

There's a lot to consider when you're setting out in the Harvey, New Orleans, or Metairie area to buy your next car. Of course, you'll want to browse the selection, review your options, take a test drive, and learn about the available financing. But what are you going to do with your old car?
There are a few options to consider. Still, you should know at Bohn Toyota, we buy used cars. Whether you want to trade in your vehicle while buying your next one or you simply want to sell your vehicle, contact our team today for help.
Contact us with any questions!
The Benefits to Selling Us Your Old Car
When you're looking to sell your car, it can be a tedious process, especially when you're trying to sell it privately. You'll need to post ads online and in print, make sure the vehicle is visible from the street with your contact information, and you'll have to sift through the variety of offers you'll get.
However, if you sell your vehicle to a dealership like ours, the experience will be streamlined. You won't have to worry about leaving your car parked in a public place, posting ads, or communicating with several interested parties. You'll just deal with us!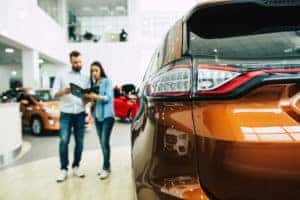 What to Expect When Selling Us Your Car
If you plan to buy your next car from us, you can simply use your vehicle as your down payment. When you trade in your vehicle, it counts toward your down payment, so you won't have to pay out of pocket when you're going through the process of buying a new car.
Still, if you don't plan on buying a car from us and just want to sell, it's easy. First, we'll have an expert appraise your vehicle. They'll factor in the Blue Book value while including any cosmetic or mechanical issues in order to give you a fair price. Then, you'll be able to decide if you want to sell us your car.
The Car-Selling Process
When it's time to sell us your car, there are a few things you'll want to bring along so the experience can go off without a hitch. Obviously, you'll want to bring your vehicle and any keys you have for it. You'll also need to provide us with the title, tags, and even your registration.
Our expert appraiser will then carefully inspect your vehicle and our technicians will run a diagnostic check to make sure your vehicle is in great shape. Considering both these factors, we'll then be able to provide you with an offer to buy your used car.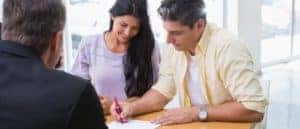 Get Started on Selling Us Your Car
Are you in the market for a new car and trying to figure out what to do with your old one? You can always drop by and see us at Bohn Toyota to browse the selection and talk with our financers about selling us your used car!
Get started by browsing the selection, scheduling a test drive, or simply contact us at Bohn Toyota. We're here to help drivers in Harvey, New Orleans, and Metairie when they're looking to buy or sell a car!