Transmission Repair Near Me
When you're on the road cruising around Harvey, New Orleans, and Metairie, your car is working hard to give you great performance throughout your drive. One of the parts that's doing some of the most significant work is your transmission.
Like any part or system under the hood though, this may need service and should be inspected at by a technician. If you're looking for transmission repair near me, schedule service online now.
How To Check Transmission Fluid
How Often To Change Transmission Fluid
Low Transmission Fluid Symptoms
What is a Toyota Cabin Air Filter?
What Does the Transmission Do?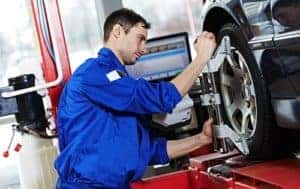 Whether you drive a vehicle with a manual or automatic, your transmission manages the gear shifting in your car. While there's differences between the two types of transmissions on how the shifting occurs, this key part of your car has as much to do with your speed as your engine.
If you've ever seen a bicycle with a broken chain, you'll know that without being able to shift gears, your vehicle will only be able to go so fast, no matter how much power you try to apply. That's why being able to get your transmission repaired and shifting properly again is so important.
Signs You Need Transmission Repair
When you have a problem with your transmission, it's very likely that you'll feel it in the way your car is driving. The most obvious sign is if the gear shifting just feels off. You might experience this in a few different ways.
One clear sign is if your vehicle gets locked in one gear and can't go past a certain speed, no matter how much you accelerate. In an automatic transmission, it could also feel like the gears are slipping and shifting at random times that don't feel connected to how you're accelerating. If you have a manual transmission, you may have a much more difficult time shifting from one gear to another.
All these issues can be caused by parts malfunctioning or low transmission fluid. If you're leaking fluid, you'll probably be able to spot the leak by looking under your car. If you're low on fluid instead you might smell a burning odor while you drive. This is the little fluid you have left burning up.
For each one of these signs, it's a good idea to stop the car and call for transmission repairs immediately.
Transmission Service Center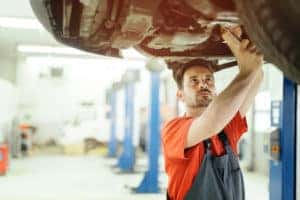 You can count on our service center if you ever notice any of these signs. We have a team of highly trained technicians who can take care of all your transmission repairs, patch any leaks, and refill your transmission fluid.
Schedule service with our expert technicians if you're experiencing issues with your transmission. All your service visits will be quick and convenient with courtesy shuttle service and complimentary coffee and Wi-Fi in our waiting area.
Shift into Gear
At Bohn Toyota we want to help make all your shifting precise and effective again. Swing by our service center when you need transmission repair near me, and we'll get you back on the road around Harvey, New Orleans, and Metairie.