Toyota RAV4 vs Subaru Forester

For many drivers in Harvey, New Orleans and Metairie, efficiency and versatile cargo space are what the compact crossover segment is all about. Plus, their small size makes maneuvering in busy city streets much easier.
If you're shopping for a small crossover, you may want to read our Toyota RAV4 vs. Subaru Forester comparison. We at Bohn Toyota want to help you choose the best vehicle for you, and we think you'll be impressed by these two capable crossovers! Contact us if you'd like to learn more.

Interior Specs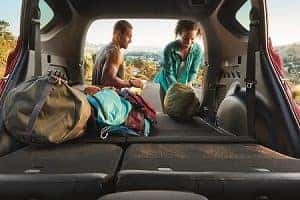 With 34.4 cubic feet of cargo volume in the base trim, the Subaru Forester is tough to beat as far as storage space. But the Toyota RAV4 manages, with 38.4 cubic feet behind the rear seats. While the RAV4 has consistent cargo space across all non-hybrid trims, the Forester's capacity shrinks to 31.5 cubic feet when you reach above the base.
With the rear seats folded down, the two crossovers have similarly cavernous cargo bays, with max cargo space hovering near 74 cubic feet. You can store a wide range of items, including plenty of outdoor gear for your next adventure in the wild. Once again, though, the Forester's max space drops – in this case, to 68.5 cubic feet above the base trim.
Advanced Safety Features 
The RAV4 vs. Forester faceoff is on even ground when it comes to safety scores. Both received a 5-Star Overall Safety Rating from the NHTSA, indicating that quality engineering and passive safety systems combine to reduce the risk of injury in a wide range of crash scenarios.
However, you'll find that the Toyota RAV4 has a lengthier list of standard driver-assist features, a result of Toyota Safety Sense™ P. Lane Keep Assist will help keep you from drifting past your lane markers, and adaptive cruise control helps you keep a safe, consistent distance from the car in front of you on the highway.
You can find those systems on the Subaru Forester, but only as available options: They don't come standard, like in the RAV4.
Performance Specs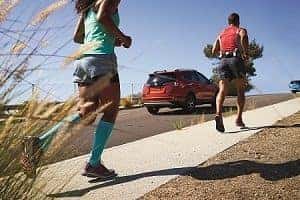 The Toyota RAV4 and the Subaru Forester offer similarly powered base engines. Both run on 2.5L I-4 engines that put out roughly 180 horsepower and 175 lb-ft of torque. Whether most of your day-to-day driving is in town or on the highway, you'll get solid acceleration from these engines.
If you're looking to economize on your next driving adventure, the Toyota RAV4 edges out the Subaru Forester slightly, with an EPA-estimated 23 city and 30 highway mpg.1 The Forester gets just 22 city and 28 highway mpg, meaning you'll go farther on less fuel with the Toyota crossover.
If you choose the RAV4 Hybrid, the EPA estimates that you'll get 34 city and 30 highway mpg, giving you the most efficient ride available between the two crossovers.1 The Forester doesn't come in a hybrid trim, so the RAV4 has a clear advantage here.
Toyota RAV4 vs. Subaru Forester: The Verdict
As our Toyota RAV4 vs. Subaru Forester comparison shows, it's clear that these compact crossovers each have incredible strengths. However, if you value storage space, efficiency and safety features, you may prefer what the RAV4 has up its sleeve.
Decide for yourself! If you live near Harvey, New Orleans or Metairie, schedule a test drive here at Bohn Toyota. Stop in, get behind the wheel, and see if the RAV4 is the perfect ride for you!
1 2018 EPA-estimated mileage. Actual mileage will vary.