Toyota Lease Deals near Gretna LA

When you're in need of a set of wheels to help you get around Gretna and beyond, you'll want to get a sense of your options. If you're not ready to commit to ownership or financing a car isn't exactly right for your lifestyle now, you may want to consider lease deals near Gretna.
At Bohn Toyota, we're proud to offer vehicle lease deals for Gretna drivers! Be sure to contact us with any questions.
Lease a Toyota near Gretna LA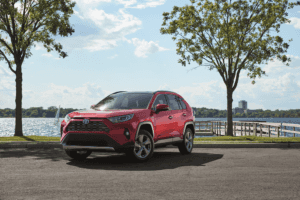 You've got plenty of choices for your Toyota lease at our dealership. Consider the various models and styles and you're bound to find the right car to drive around for the next few years. Whether you're seeking an adventurous midsize SUV such as the Toyota RAV4, a sleek sedan like the Toyota Camry, or even a rugged pickup such as the Toyota Tundra, you'll have plenty of models to consider.
Get started now by browsing our online inventory to see what's currently on our lot without leaving home. You'll be able to lease a Toyota near Gretna easily once you've determined what vehicles are available.
Leasing vs Buying a Toyota
In order to get more out of your experience and so you're fully aware of the process, it helps to know how leasing differs from buying. When you lease a car, you're basically renting it for a few years. You don't technically own it, but it's yours to drive for the duration of your lease.
When you buy a car, you're required to make a down payment. When you lease, there's generally no down payment necessary. In fact, leasing can sometimes lead to lower monthly payments than if you'd purchased the vehicle. Of course, after a few years when your lease terms, you'll have a few alternatives to consider.
When Your Lease Term Ends

Once you've had your Toyota lease for a few years and the end of your term approaches, you'll want to consider the next step. You have a few options. You can return the vehicle to the dealership in good condition and walk away. However, if you've enjoyed driving the vehicle and want to keep the journey going, you may choose to buy the vehicle out of the lease!
You have one other opportunity: you can get an entirely new Toyota lease! Often, you'll be able to choose a model with the latest features, style, and technology. By getting a lease deal near Greta at our dealership, it's possible that you'll be able to opt for a higher trim than you would have been able to purchase. When you lease, you can rest easy and simply enjoy the ride!
Lease a Toyota near Gretna Today!
If you're ready to get started, you can browse our inventory right from home. That way, when you arrive at our dealership, you'll know exactly what Toyota Gretna vehicle lease deal is right for you!
Schedule your test drive with us at Bohn Toyota today!