Toyota Corolla MPG & Fuel Efficiency
When you're set on the Toyota Corolla for your excursions around Harvey, New Orleans, and Metairie, what are the factors that you consider important in your decision? Performance, comfort, and features are always crucial, but the Toyota Corolla fuel mileage is probably high on your list.
At Bohn Toyota, we're going to explore the Corolla efficiency and performance, so you can get a better sense of the MPG. This guide will help you determine if this Toyota fuel efficiency is what you're looking for with your next ride. Be sure to contact us with any additional questions that pop up.

View our Corolla Inventory
Toyota Corolla Engine Power & Performance
The 2020 Toyota Corolla offers an array of engine options that drivers can choose from. The base trim includes the 1.8-liter 4-cylinder engine that boasts 139 horsepower and 126 lb-ft of torque. Drivers looking for more power can opt for the 2.0-liter 4-cylinder engine with the SE and XSE trims, which boasts 169 horsepower and 151 lb-ft of torque.
The Corolla also offers a hybrid engine option for drivers. The 1.8-liter hybrid 4-cylinder generates 121 horsepower and 105 lb-ft of torque.
Toyota Corolla Efficiency & MPG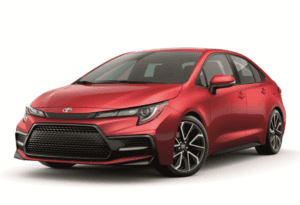 The Toyota Corolla fuel mileage and efficiency varies depending on the engine you've selected for your vehicle. When equipped with the base 1.8-liter 4-cylinder the Corolla achieves an EPA-estimated 30 city/38 highway/33 combined MPG.1 The 2.0-liter 4-cylinder engine only sees a slight dip, but stays pretty consistent with 29 city/36 highway/32 combined MPG, according to EPA-estimates.1
The Hybrid Toyota Corolla efficiency is the highest of all the available engine options. The Corolla Hybrid LE gets an EPA-estimated 53 city/52 highway/52 combined MPG.1
Factors that Affect Toyota Fuel Efficiency
There are quite a few factors that can have an effect on your Toyota Corolla fuel mileage. Your transmission plays a pivotal role in your vehicle's fuel efficiency. Most of the Corolla trims come with the Continuously Variable Transmission, which is known for its direct gear transitions and smooth accelerations, which actually help boost the vehicle's overall efficiency. The available 6-speed manual, while fun to drive, doesn't achieve as high of a fuel efficiency.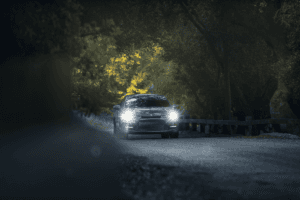 If you happen to drive with a lot of passengers in the car, this can affect the Corolla fuel mileage over time. Because the vehicle is using more fuel to perform at its best, this can cause it to have a slight drop in MPG.
Another factor that plays an important part is maintenance—specifically, your oil change. Vehicles perform at their most efficient on fresh oil. However, once the oil is older, it becomes less effective at lubricating the moving metal parts, which will make the performance a bit sluggish. Keeping up with oil changes can ensure that your Corolla has optimal efficiency.
Learn More About the Corolla MPG
At Bohn Toyota, we hope that you've learned a lot about the Toyota Corolla fuel mileage with its varying engine options. While you're aware of the EPA-estimates, you can still learn more about what the Corolla offers, so you can truly decide if it's right for you.
Schedule a Toyota Corolla test drive with us at Bohn Toyota to see if it's the vehicle that can get you around Harvey, New Orleans, and Metairie efficiently!
1 2020 EPA-estimated mileage. Actual mileage will vary.