How to Check Transmission Fluid Harvey LA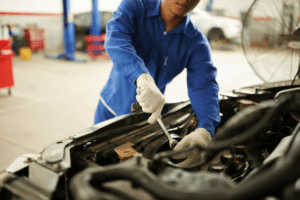 If you're a driver in the Harvey, New Orleans, or Metairie areas wondering how to check transmission fluid, our team at Bohn Toyota can help. While our service center technicians are always happy to perform this service for you, we understand that many people are curious about how to do it for themselves.
For cars with a manual transmission, a professional will need to check your transmission fluid. However, for cars with an automatic transmission, it's a fairly straightforward procedure that you can do at home.
Just follow our four steps and contact us with any questions.
1.Park your Car and Run the Engine
First, get everything warmed up and moving. Put your car in park or neutral and allow your engine to run. Keep it running for the entirety of this process. Be careful, because your engine will be warm, so some protective gloves may be helpful here.
2.Locate Your Transmission Fluid Dipstick
Open the hood and check for your transmission fluid dipstick. For rear-wheel drive cars, this will be located toward the rear of the engine. If your car has front-wheel drive, it'll likely be sticking out of the transaxle, toward the front right corner of the hood.
3.Observe the Transmission Fluid
Pull the dipstick out and take a look at the fluid. It should be pinkish or almost clear. If it smells burnt, appears dark in color, or has particles in it, make an appointment to have a certified technician change your transmission fluid.
4.Check Your Transmission Fluid Level
Wipe down the dipstick with a clean rag and reinsert it. Pull the dipstick out again and check the fluid levels. It should reach the "full" line on the dipstick. If it doesn't reach that line, your fluid levels are too low and need to be refilled.
If you choose to refill it yourself, check your owner's manual to ensure you're using the proper fluid. We recommend contacting your local service center to do this.
Click to explore our service specials and save on your next maintenance appointment!
What is Transmission Fluid?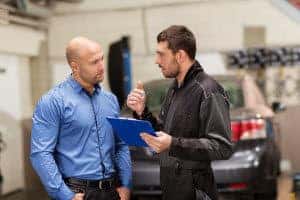 Your transmission is full of parts that move past each other quickly when you change gears. The fluid helps to keep all those parts lubricated and prevent damaging friction. It also helps to regulate temperature and prevent your transmission from overheating.
Why Check Transmission Fluid?
Over time, your transmission fluid may collect particles as it moves throughout your engine. When this happens, it may be less effective at performing its job. To prevent this, check transmission fluid in your car regularly so that know when you need to change or flush it.
On average, most transmissions require a fluid change every 45,000 miles, but we recommend checking it with every 7,500-mile oil change.
Where Can I Learn How to Check Transmission Fluid?
If you want to learn how to check transmission fluid for yourself, visit the service center at Bohn Toyota near New Orleans. Our team of technicians can show you how to perform this service and can even help you flush your transmission so that it continues to perform as optimally as possible.
Drivers near Harvey and Metairie can schedule a service appointment today!