Get Your Trade-In Checklist Today!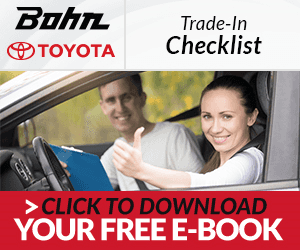 It's an exciting time when you're gearing up to get your new car to continue your adventures on the roads of Harvey, New Orleans, and Metairie! When you're getting ready to find your next car—what are you going to do with your old one? Trading your vehicle in can yield a lot of benefits during the process of financing your next vehicle, but to get a better sense of the process and what you'll need to do, our team at Bohn Toyota is offering this FREE Trade-In Checklist!
In this checklist, you'll learn the steps like:
Conducting Trade-In Research
How To Prep Your Vehicle
What To Bring In During Trade Day
This informative checklist can help you prepare for your trade-in so you can get a better understanding of the process so you'll get more out of the experience! To get your FREE copy of the Trade-In Checklist, all you have to do is fill out the form on this page and submit—it's that easy! Then, you'll have your checklist to help you for when it's time to trade in your old car when you're set to buy your new one!
At Bohn Toyota, we're proud to help Harvey, New Orleans, and Metairie drivers learn more and get the most out of their experience!