Community Spotlight: Zasu
The New Orleans area is home to some of the most sought-after cuisine and inventive local dishes in the country. Of course, a lot of the cuisine is seafood-based, so there's plenty of restaurants that serve up oysters, grilled fillets, and of course, crawfish. But of all the notable seafood restaurants in the Big Easy, there are a few standouts.
Zasu is an inventive seafood restaurant that's been the dream of chef and owner Sue Zemanick, which offers up old classics, new twists, and truly inspired dishes that any stern seafood lover will thoroughly enjoy!
History of Zasu
Since the age of 15, Sue knew that her future was in food. After going to culinary school and realizing that her passion was seafood, she headed to New Orleans to make her mark. After achieving acclaim from several best-of lists, she decided to bring her dream of Zasu to life as a thank you to the many patrons that were delighted by her dishes.
Zasu comes from the Slovak word "zasa," which means "once again." Using her Slovak heritage and her love of seafood, Sue used Zasu as her opportunity to explore seafood further by implementing new flavors and culinary styles to deliver a remarkable dining experience.
What's on the Menu?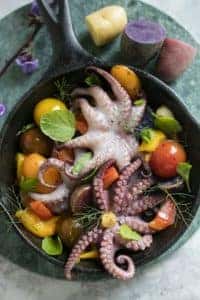 There's no better way to open up your palette than to get started with some appetizers. There are plenty of options ranging in styles, whether you want to dive in head-first with the Grilled Baby Octopus or indulge in the Fried Veal Short Ribs, there's plenty of choices in between to kick start your taste buds.
As for dinner, there's a lot to take in with the plentiful options. If you're sticking to the sea, there's the Sautéed Halibut with a ginger-mushroom broth, Saltine Crusted Grouper with a spicy butter sauce, or the Sautéed Snapper with Indonesian eggplant curry. For the land lovers, there's dishes like the Achiote Roasted Chicken Breast with pickled peppers and queso fresco, the Beef Bourguignon, or even the Wild Mushroom.
Don't forget to complete the Zasu experience without sampling one of the mouth-watering dessert options! There's the Chocolate Cake with port-fig ice cream and caramel sauce, the Pistachio Pavlova with macerated strawberries, citrus curd, and vanilla ice cream. You may also want to go for the Passion Fruit Crème Brulee with candied ginger, coconut shortbread, and Thai basil, or the Coffee Semifreddo with coffee cake crumbles and toasted pecans!
Make a Reservation, Book a Private Party, or Just Walk in
If you find yourself in Mid-City, or you simply can't wait to sample the impressive menu selection, you can head into Zasu or make a reservation (recommended). Zasu also features a private party option, so if you're planning a party or special occasion, you and your guests can have the whole restaurant to sample the tasty options.
Head out and have fun at Zasu at 127 North Carrollton Avenue, New Orleans, LA!