Community Spotlight: Hippie's Kitchen

As you're driving over the Mississippi River from New Orleans to head back towards Harvey, LA, after a long day spent among the local shops, restaurants, and bars, nothing beats a good meal before finally getting home. Considering New Orleans and Harvey are so close, what's stopping you from spending another hour or two to relax and grab a delicious bite to eat?
If you find yourself around the Harvey area, hungry, and in the mood for great food, take some time to head over to Hippie Kitchen.
The Mission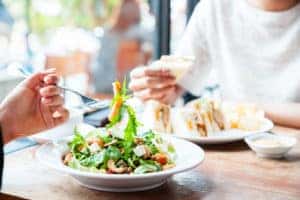 Hippie Kitchen prides itself on being an employee-owned and operated neighborhood food place where locally sourced ingredients are met with tasty recipes and an overwhelmingly dedicated staff. Their commitment is simple, "to feed people good food," and it certainly goes a long way. All of their ingredients, from the fish and poultry to the veggies and whole grains, have been raised with the utmost care.
When you combine this commitment with seasonal meals crafted from scratch, the outcome is nonetheless spectacular. With an emphasis on supporting their local community, any of the food you dine on while seated in Hippie Kitchen will be sure to make you feel good, and let you feel content knowing who, what, when, where, and how your food was sourced and prepared.
Delectable Bites & Drinks
The Hippie Kitchen menu is quite expansive, offering everything from coffee and house-blended juices to classic meals like huevos rancheros and freshly picked local fruit. When you walk up to the colorful display that houses Hippie Kitchen's kitchen and eatery, you'll see plenty of beautifully kept greenery all around—and they aren't just to make the atmosphere more appealing.
If you decide to drink one of their smooth hibiscus refreshers, know that the hibiscus plant you passed on the way in is the same one that was juiced and poured into your glass. On the brunch menu, you will find everything from locally sourced eggs to light and delicious granola.
Of course, you'll want to share the experience. It's a good thing that Hippie Kitchen provides their Nosh menu, full of delectable bites like tuna carpaccio and a house-made pizza of the day.
If you're a meat lover, you'll be happy to know that Hippie Kitchen cares a lot about their house-made pastrami, which takes about two months to cure, season, and smoke before it hits your plate. Their pastrami sandwich on freshly baked bread is one of our favorite meals in the area, and with the greens plated alongside, it's difficult to avoid stopping in and eating it just about every chance we get.
Visit Hippie Kitchen Today!
After reading about the amazing mission and food that Hippie Kitchen offers to its employees and guests, we know that your mouths are probably watering—ours certainly are—and that your hearts are happy. So, if you're local, or passing through the Harvey, New Orleans, or Metairie areas, we suggest you stop by Hippie Kitchen to support good food backed by an even better cause.
You can check out their Facebook page for more details such as operating hours, catering options, and seasonal menus!