Brake Repair near Me

Your brakes might be the most important safety system in your car. They help you stop safely and keep you in control during all your drives around Harvey, New Orleans, and Metairie. However, every part and system in your car needs maintenance eventually. For brake repair near me, schedule service online and visit the service center at Bohn Ford.
Brake Pads vs Rotors
Why Does My Car Shake When I Brake?
Why Brakes Need Repairs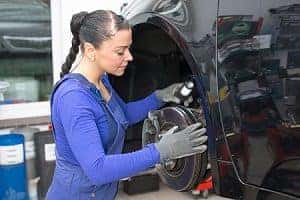 To bring your vehicle to a complete stop it takes a lot of pressure and friction. When you press down on your brake pedal the pressure you applied is transferred out to your wheels through fluid in the brake lines. These lead to a set of calipers that hover just above the rotors in your wheels. The brake pads are attached to the calipers and create friction when they clamp down on the rotors.
Brake pads are made of a fibrous material that's designed to create friction. So, whether they lightly press up against the rotors to help you slow down gradually, or they clamp down fast to come to a sudden stop, their job is to create enough resistance to stop the rotors and wheels.
All that pressure and friction causes parts to wear down over time. Brake pads are actually designed to. That's why every time you stop in for service or maintenance, a technician will inspect them to see if they should be replaced.
Signs You Need Brake Repairs
The most well-known sign that your brakes need service is when you hear them squeak. Since brake pads wear down by design, most have a built-in tab that creates this sound when it makes contact with the rotors. This is indicator is designed to tell you when the pads are worn down to the point that they should be replaced.
Another sign is when things feel off when you slow down. If you step on your brake pedal and it feels like its sinking slowly, you may be low or leaking brake fluid. If your vehicle pulls in to the side as you slow down that may be another sign of low brake fluid.
Service Center & Parts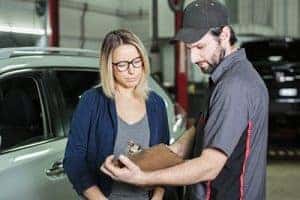 When you hear the infamous squeaking brakes, treat the sound as a helpful reminder that it's time to visit our service center. We have a team of highly trained technicians who can replace your brake pads, inspect your rotors, and refill your brake fluid.
Our team is committed to keeping your car in great shape. We try to make it convenient for you when you come by too. There's complimentary coffee, work stations, and free Wi-Fi in our waiting area. Schedule service with us online the next time you notice signs that you might need brake work.
Stop By & Stop Safely
Stop into Bohn Ford to have your brakes looked at and get routine maintenance from a skilled team of technicians. By offering brake repair near me, we make it our goal to help drivers in Harvey, New Orleans, and Metairie stop safely every time.