Best Happy Hour Spots New Orleans

When it's 5 p.m. on a Friday, you can relax knowing that the work week is over and happy hour is the transition into your weekend. However, living in the Big Easy gives you the best opportunities for a happy hour due to all the great bars and lounges throughout the city. Whether you're heading to Bourbon Street or beyond, this is YOUR guide to the NOLA happy hour!
Bar Frances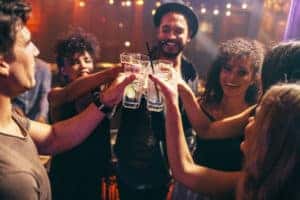 If you're looking for some great eats and drinks, you may find that Bar Frances is the spot you want to head to after work. They have a special happy hour menu that includes specialty cocktails like the Corsican Tonic, Paloma, Gimlet, or an Old Fashioned, as well as plenty of wine and beer options to choose from while you're laughing with your coworkers. But if the hunger pangs get you, you can partake in some bar menu items like P.E.I Mussels, a Charcuterie Plate, Burrata, or even the Hot Fried Chicken Sandwich. Get your weekend started at Bar Frances!
Down the Bayou
When you tell your friends that you're going Down the Bayou, remind them that you're not heading out in the swamp, instead, heading to the classy cocktail bar in the East Carrollton section. DTB is a great venue for your happy hour because of the vast selection of cocktails, wines, beers, and tasty menu items. Their happy starts earlier than most at 4 p.m., but it's your chance to get some cocktails in and maybe grab a table for dinner. They've got a tasty range of menu items like Corn Fried Oysters, Pork Belly and Brussels, and even Spicy Crab Claws to enjoy for your night out!
Maypop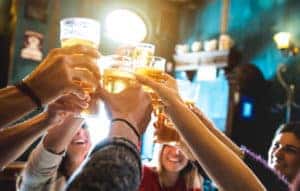 Maypop is a stylish and alluring cocktail lounge and restaurant that offers a warm and inviting ambiance—as well as a great selection of drinks and eats. They have an extensive hand-crafted cocktail list with options like the Muses Harvest, Lost Scotsman, the Crimson Cooler, or any of the happy hour cocktails to really add to your post-work relaxation. Enjoy some of the happy hour menu items like Vindaloo Curry Hot Wings, Spicy Marinated Cucumber, or Spicy Shrimp & Ginger Ravigote, and plenty more interesting combinations to make your happy hour an interesting one!
Grab a Drink and Relax
When the clock strikes five, and you're looking for a drink to unwind after the work day, you now have this guide to NOLA happy hour to help you get the most out of it!