Best Gumbo New Orleans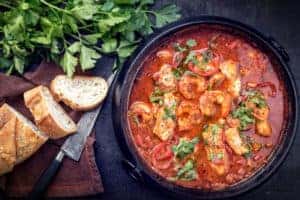 New Orleans is known as a melting pot of cultures, most notably with the local music, and of course—the cuisine. But of all the New Orleans-centric foods out there, gumbo is one of the most sought after. Finding a great gumbo can really elevate your senses, your mood, and your taste buds. We're here to navigate the growing gumbo scene in the Big Easy so you can find the best!
Here's a list of the top spots for gumbo in New Orleans!
Dooky Chase's Restaurant
Of all the places in New Orleans where you can score some gumbo, Dooky Chase's Restaurant remains as one of the top spots in the Crescent City. Since 1941, Dooky Chase's has been an unofficial gumbo capital, bringing notable visitors like Ray Charles, Quincy Jones, and even Barack Obama to the spot to sample some food from the "Queen of Creole Cuisine." This spot holds a lunch buffet throughout the week which is your best bet for all you can eat gumbo, or some other favorites like Shrimp Clemenceau or Chicken Creole!
Gumbo Shop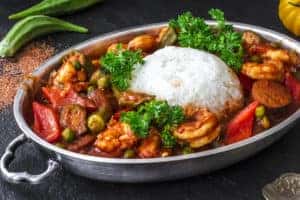 When you've got an urge for some tasty and inventive gumbo, there's no better spot than the Gumbo Shop. This award-winning eatery serves up several variations of this popular NOLA stew. They have the Seafood Okra Gumbo, which includes shrimp and crabs in a thick brown creole sauce featuring the holy trinity of veggies. There's even the Chicken Andouille Gumbo, which has been touted as the "best in the city," by a few locals and die-hard regulars. The staff at the Gumbo Shop isn't trying to re-invent the wheel, they're simply trying to continue the legacy of the fusion of cultures that New Orleans is known for!
Hambone
Hambone is a family-owned-and-operated restaurant serving up classic Nawlins cuisine with some new and inventive twists. Located across Lake Pontchartrain, this little escape delivers plenty of tasty flavors that you'd think you'd never left the city. But when you're on a gumbo mission, you'll be pleased with the Hambone Gumbo. This take includes gulf shrimp, ham hocks, collards, pickled okra, and potato salad. Hambone services lunch, dinner, and even brunch, so you can have your gumbo at any time of day!
If you're in the mood to sample some spicy and savory gumbo, there's plenty of places to go to in New Orleans. But, if you want the best in the city, these spots are worth checking out!