Best Bed and Breakfasts New Orleans LA
Even if you live nearby, New Orleans is a great city to visit and stay in. There's plenty that the city offers in terms of art, culture, cuisine, and simple fun. Instead of booking a hotel room that lacks the character and substance deserving of the Big Easy, why not check out some of the local bed and breakfasts throughout the notable districts? Some of these homes have a rich history, so why not take your NOLA adventure to the next level?
Here's a list of the top New Orleans bed & breakfasts for your weekend getaway!
Ashton's Bed & Breakfast
2023 Esplanade Avenue, New Orleans, LA
Ashton's Bed & Breakfast, located in the Seventh Ward section of New Orleans, offers the classic antebellum mansion aesthetic with an extended porch, Greek-styled pillars, and a picturesque design. Since 1989, Karma and Patrick have been delighting guests with their southern hospitality and their quaint and illustrious rooms.
Ashton's includes eight distinct rooms with different styles that encompass various aspects of the Crescent City. These rooms include the Jazz Festival, Mardi Gras, the Garden District, and even the Creole Queen among many others. You can look forward to a tasty, gourmet, and decadent breakfast in the morning.
Creole Gardens Guesthouse & Inn
1415 Prytania Street, New Orleans, LA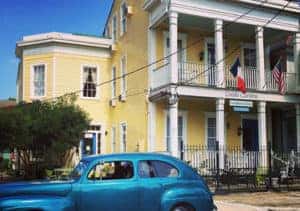 If you're looking for a classic New Orleans bed and breakfast, you may want to consider checking into Creole Gardens. This home is located in the Faubourg Lafayette section and offers a classic Creole appearance with its porch and awning and its illustrious gardens.
This B&B offers plenty of rooming options with available cottages, rooms in the mansion, and even "bordello rooms" that offer a unique appearance and ambiance. In total, this bed and breakfast offers 26 unique rooms for your stay in New Orleans. Creole Gardens even accommodates pets, so you don't have to go away for the weekend without your furry friend!
Grand Victorian Bed & Breakfast
2727 Saint Charles Avenue, New Orleans, LA
If you want the lavish New Orleans experience, you may find booking a room at the Grand Victorian Bed & Breakfast to be up your alley. This expansive Victorian-era mansion is just outside the French Quarter and offers numerous rooms and porches to give you the true feel of life in the Big Easy.
Each room is named after a historic plantation, incorporates a classic design, and includes custom-made mattresses for added comfort. You have your choice of the Rosedown Room, Shadows Room, the Magnolia Room, or even the Nottoway Suite. You can start your morning off with the free continental breakfast!
Plan Your Getaway Today
If you're looking to getaway for the weekend or for a short trip during the week, you may want to check out some of the rooms at these top New Orleans bed and breakfasts!